To better appreciate why filtration is a good idea, you need to understand how it works. Filtration is needed to eliminate muck, particles, and biological waste from the water that are unhealthy for the pond. A properly installed filtration system will pull water from the bottom of your pond and circulate it with essential nutrients and oxygen throughout the water garden. There are natural ways of filtering but help from manmade filters and pumps help speed up the process of filtration. Even if your pond is solely decorative, a filtration system will help prevent stagnation, reduce algae growth, impede insect pests, and clean the water to be used in a beautiful water display.

Filtration systems include a filter and a pump. Filters are used to remove any unwanted solid particle that can damage your pond. Pumps, on the other hand, are vital for passing water through the filter. As a pond owner, you must first decide whether your pond will require complete biological filtration due to aquatic life or, in the case of a small decorative pond, simply require a mechanical filter.

Remove debris before it enters the pump, protecting the pump and thereby leading to a longer pump life and better performance.

Work with a pump to move the water and catch large and small pieces of debris.

Use beneficial bacteria to naturally break down organic decaying material.  

Combine the power of mechanical and biological filtration. The pressure in the filter pushes the water through the filter so that the maximum amount of debris is removed and it also allows you to return the water back to the pond through a spitter or small waterfall. The filter pads (mechanical) catch debris, fine and coarse, while the bio-balls (biological) aid in the growth of beneficial bacteria.

TotalPond Filtration Products

Some major factors to consider when choosing a pond filter include: the volume of your water feature, the water depth, as well as the number of plants and fish that are present in it. The filtration system is almost certainly the most important piece of mechanical equipment in your pond, so spending more on a system that is easy to maintain and of the best quality is to your advantage.

| | | | | | |
| --- | --- | --- | --- | --- | --- |
| | Pre-Filter | Mechanical | Biological | Pressurized | Ultraviolet (UV) |
| | | | | | |
| | | | | | |
| | | | | | |
Filtration Sizing Reference

When choosing a filter and pump for your pond, ensure the filter size is sufficient and water circulation is adequate.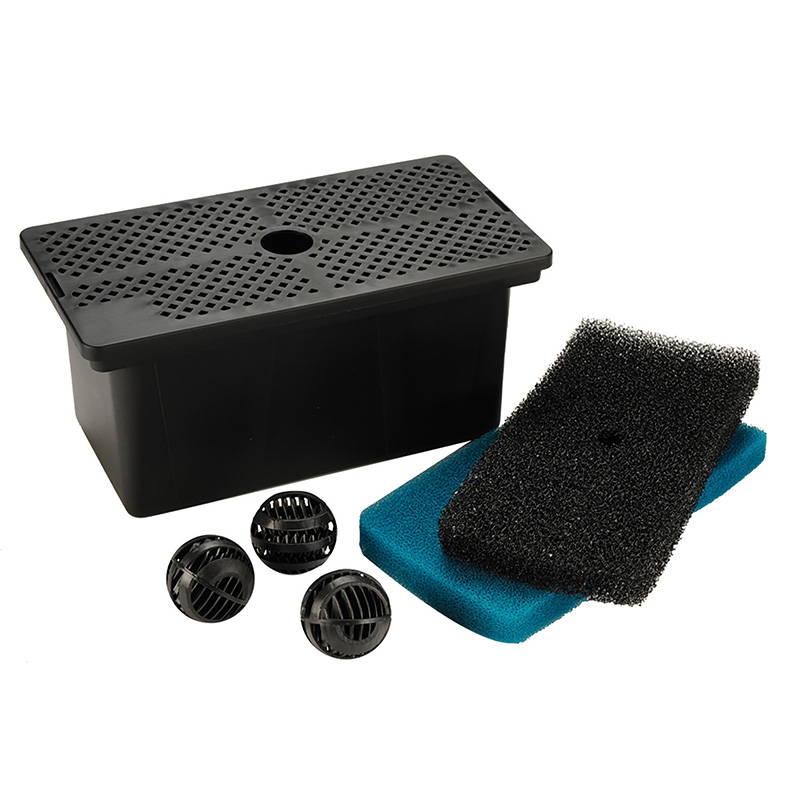 Use as a filtration system in ponds up to 500 gallons or a pre-filter in ponds over 500 gallons. Pump not included.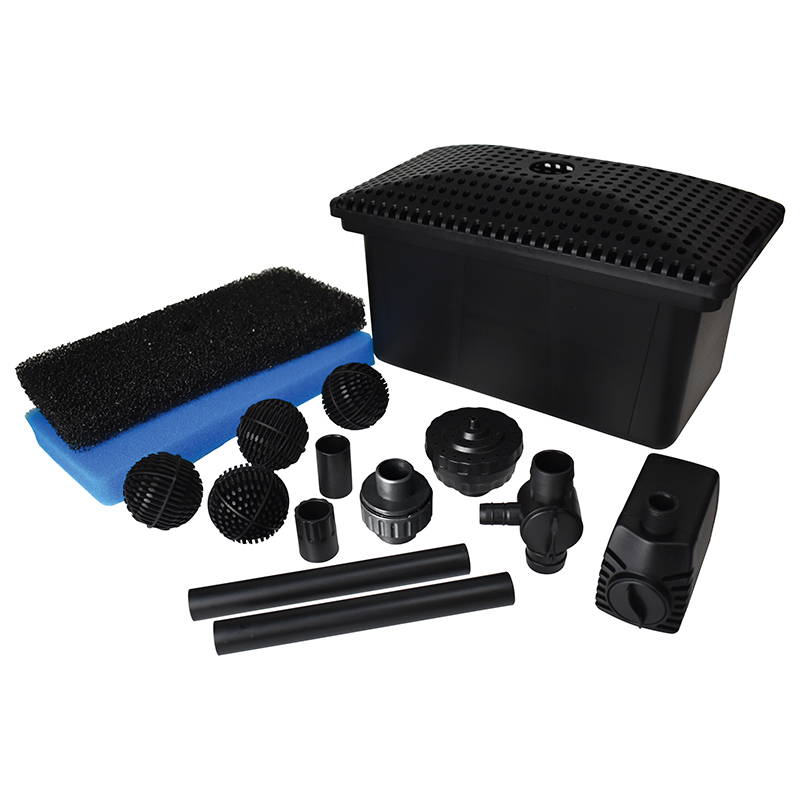 Complete Filter Kit with Pump
Use as a filtration system in ponds up to 500 gallons or use as additional filtration in ponds above 500 gallons. Pump included.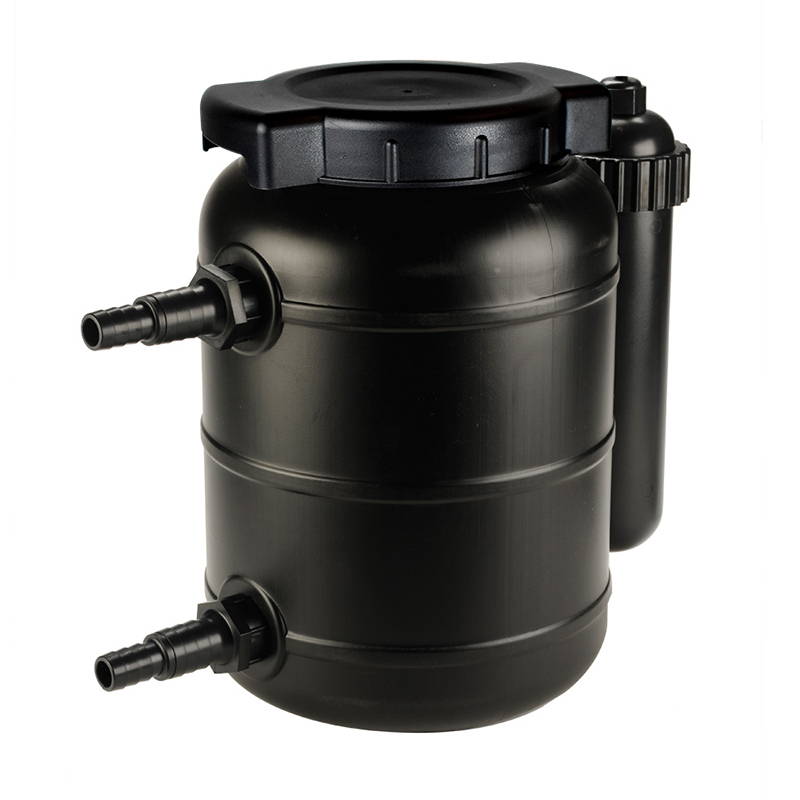 Pond Filter with UV Clarifier
Use as the filtration system in ponds up to 800 gallons. Pump not included.
Filter-Pump Compatibility Chart

Universal Filter Box
Complete Filter Kit with Pump
Pond Filter with UV Clarifier

300 GPH - 800 GPH
Pond Pump

560 GPH - 800 GPH
Pond Pump
Ultraviolet (UV) Light Technology maintains water clarity and a healthy pond environment for plants and fish. Water is pumped through a carefully calibrated UV chamber at just the right speed to provide maximum exposure. As water passes over the UV bulb, it's cleaned of microorganisms that cause green, murky water. The results are a crystal clear and healthy pond you can enjoy all year round.

UV-Pump Compatibility Chart

UV Pond Clarifier
Pond Filter with UV Clarifier

300 GPH - 800 GPH
Pond Pump

560 GPH - 800 GPH
Pond Pump
Tubing is a conduit, allowing water to flow from a pump to the rest of your pond equipment. For best performance, we recommend using the largest tubing size option.

Tubing-Pump Compatibility Chart

Universal Filter Box
Complete Filter Kit with Pump
Pond Filter with UV Clarifier
UV Pond Clarifier

3/4 in. - 1 in.
Corrugated Tubing

1/2 in. Vinyl Tubing
3/4 in. - 1 in. Corrugated Tubing